5 Legendary Guitars Of Rock – Fender
/
August 2nd, 2019
/
There are currently 0 comments
Here we will be taking a stroll through the annals of rock history, taking a glance at some of the most influential Fender guitars and their respective players along the way. Great guitarists can sometimes be said to sound like themselves regardless of what they pick up, but when they really sound like themselves, it can be something truly special.
Eric Clapton's "Blackie"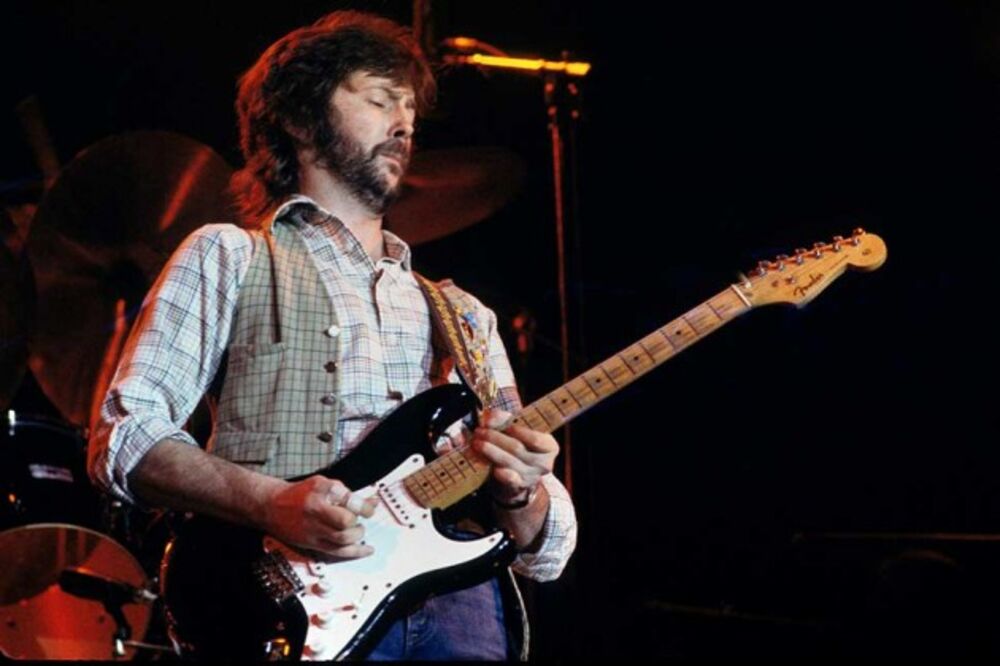 There was a time when everything Eric Clapton touched seemed to become famous in its own right, with guitars such as "The Fool" and "Brownie", used in Cream and Derek & The Dominoes respectively, becoming more iconic with each outing. "Blackie" started out as three different Fender Stratocasters bought from a shop in Nashville, a decision influenced by his friend Steve Winwood's use of the instrument. All mid-'50s models and each having separate qualities that he liked, Clapton took them to local luthier, Ted Newman Jones, who assembled the now-famous guitar using the black body from a '56 model, the pickups from another and his favourite neck from a '57. The tremolo bridge was blocked off with a piece of wood, extra springs were fitted to solidify the sound, and "Blackie" was born. The guitar became a mainstay of Clapton's solo career for years to come, even going on to become the most expensive guitar ever sold at auction at the time.
David Gilmour's "Black Strat"
The latest guitar to break the record for most expensive to ever be sold at an auction (a cool $3.9m), David Gilmour's "Black Strat" follows the 'mongrel' theme of Eric Clapton's famous guitar. First bought at Manny's Music in New York City in May 1970, the maple-necked strat came from the factory in a black finish sprayed over sunburst, but has seen many changes over the years in tandem with Pink Floyd's evolving sound. Seven different necks and an array of active/passive pickups have graced the guitar since 1970, and its signature look became complete with the addition of a black pickguard in 1974. The shortened tremolo arm is available on all Fender Custom Shop replicas, along with a 1983 '57 reissue "C"-shape neck, plus a 5-way pickup selector, an addition to the original that replaced the 3-way switch. This was a common modification at the time as players experimented with the unique 'in-between' tones that Stratocasters had to offer.
Eddie Van Halen's "Frankenstrat"
Although debatable as a Fender due to the melting pot of guitar parts, it's still amazing that such a simple guitar setup produced so many pioneering sounds. Made from factory second body and neck parts, the sound of Eddie Van Halen's famous Frankenstrat may be in small part due to his self-confessed limited knowledge of guitar electronics at the time. Using a PAF pickup pulled from a Gibson ES-335, screwed directly into the body of the guitar (that's how he thought they were mounted), some of the most original guitar parts ever written came directly from the humblest of sources. As he wasn't confident when it came to installing a more complicated wiring system, Van Halen wired the pickup up to a single volume knob (marked 'Tone') and the rest is history.
Keith Richards' "Micawber"
Who need six strings when such an enviable back catalogue of riffs can be produced with only five? A present from Eric Clapton prior to the recording of Exile On Main Street, when experimenting with open G tuning Keith Richards decided to remove the unnecessary low E string from the now famous Telecaster. This non-standard tuning, traditionally used by slide guitarists in order to play chords using only a single fret, provided inspiration for classic tracks such as 'Brown Sugar' and 'Honky Tonk Women' among countless others. The fresh-sounding riffs were due in part to Richards having to think of new ways to play chords using the tuning that was unfamiliar at the time. The classic Telecaster single coil neck pickup was changed to a '50s-era Gibson PAF humbucker in order to thicken up the sound following the 1972 tour, but apart from the addition of locking tuners a lot of the guitar's iconic status comes from the bond of such a simple instrument and the many well-loved songs it spawned.
Stevie Ray Vaughan's "Number 1"
Stevie Ray Vaughan's legendary Stratocaster was rocking the 'roadworn' look long before it became fashionable, from the down-to-the-wood finish to the cigarette burn on the headstock. Referred to as his 'second wife' and regularly strung with a custom set of 13s, most of the guitar's originality comes from its unique look and visual adornments. The 'SRV' lettering was at different points featured on the pickguard and the upper horn of the guitar, while the 'Custom' sticker sat behind a left-handed tremolo bridge, the higher insertion of the whammy a possible homage to Jimi Hendrix, although there is some debate over this. Vaughan's searing solos catapulted him into 'best ever' discussions everywhere, and his other guitars such as 'Lenny' became famous in their own right, but 'Number 1' will forever be the one associated with the indelible mark he left on the blues landscape.